4 minutes reading time
(723 words)
Join The Reclaim Party Revolution & Support Andrew Bridgen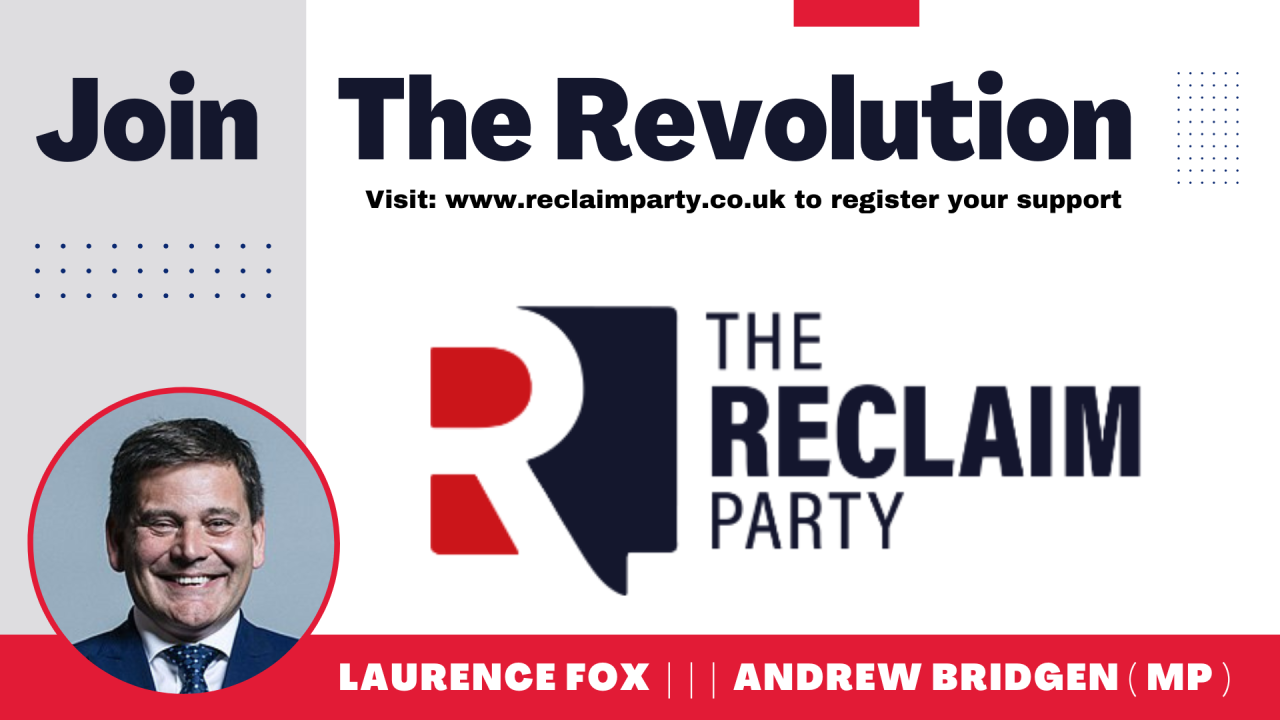 Andrew Bridgen has joined The Reclaim Party and will be standing at the next election!

Andrew Bridgen MP for North West Leicestershire was recently let go from the Conservative party for making reference to the Holocaust when talking about Covid-19. They claimed he was being ant-semitic which is totally untrue. The actual quote was "As one consultant cardiologist said to me, this is the biggest crime against humanity since the holocaust" which merely references the scale of the issue and is in no way anti-semitic.

The real reason he was let go was because he was brave enough to speak out about Covid-19 vaccine harm and other related issues. This is the kind of MP the UK needs.

If you are unhappy with the direction that the Conservatives and Labour are going in, then make your vote count. Vote for The Reclaim Party!

Andrew is a dedicated public servant and experienced politician, who many of us believe has the skills and vision necessary to lead the country through the challenges ahead. He has been a Member of Parliament since 2010 and has served as a Government Whip and Parliamentary Private Secretary. He has also held positions on several select committees, including the Treasury Select Committee and the Foreign Affairs Select Committee. This wealth of experience has given him a deep understanding of the workings of government and the challenges facing the country.

In a recent interview Andrew said:

"My expulsion from the Conservative Party under false pretences only confirms the toxic culture which plagues our political system. Above all else this is an issue of freedom of speech.
No elected Member of Parliament should ever be penalised for speaking on behalf of their constituents and those who have no such voice or platform.
As a vocal critic of the vaccine rollout amongst other issues such as net zero, illegal immigration, and political corruption the Party has been sure to make an example of me.
I am grateful for my newfound freedom and will continue to fight for justice, speech, and liberty. I will continue to serve my constituents as I was elected to do and intend to stand again at the next election." [source: Daily Mirror]

As a member of The Reform Party (or leader), Andrew Bridgen would bring a fresh perspective and new ideas to government. He has a track record of engaging with voters and listening to their concerns, and he would be able to build a broad coalition of support from across the country.

He has shown incredible courage speaking out about the biggest concerns of the UK public around Covid-19 vaccine harm and deaths, the misuse of Midazolam as an end of life protocol being administered without patient or family consent in UK hopsitals and carehomes, ULEZ, the changes being rushed through regarding the World Health Organisation (WHO) which will have an enormous impact on our freedom globally and more.

If you are concerned about the direction the UK is heading as a result of the influence of the World Economic Forum, WHO, global elites and a corrupt uncairing government, then you need to join us on our mission to ensure the right party gets in at the next election in 2024.
Join other Reclaim Party supporters to discuss, debate and more!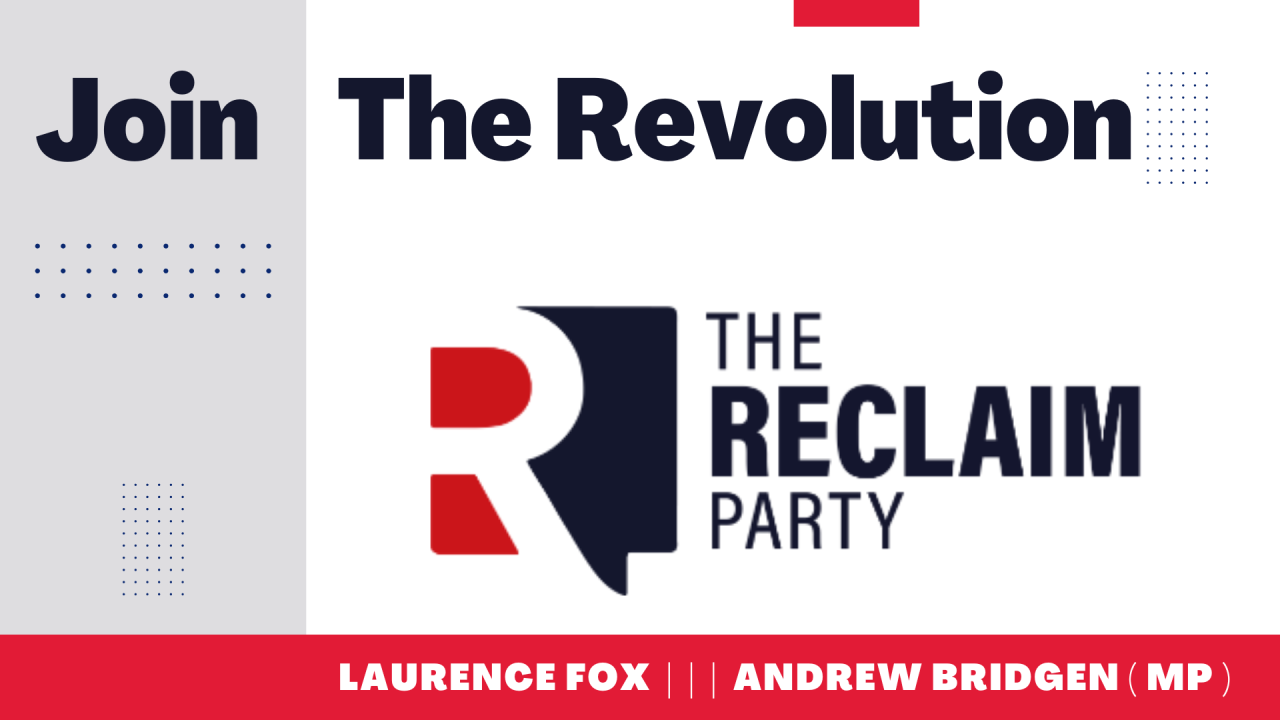 Andrew Brigden is now an MP for the Reclaim Party. Now more than ever our votes count. Join this campaign group and also visit PLEASE REGISTER TO JOIN THIS GROUP IF YOU WANT TO GET BEHIND OUR CAMPAIGN TO GET THE RECLAIM PARTY ELECTED AS THE NEXT UK GOVERNMENT!Also visit: https://www.reclaimparty.co.uk/ to register your support for the party!
Sign the petition to Get Justice For Andrew:
PLEASE SIGN AND SHARE THIS PETITION WITH AS MANY OF THE BRITISH PUBLIC AS POSSIBLE! ANDREW BRIDGEN DID NOT DESERVE THE TREATMENT HE GOT FROM OUR CURRENT GOVERNMENT.

Stay Informed
When you subscribe to the blog, we will send you an e-mail when there are new updates on the site so you wouldn't miss them.